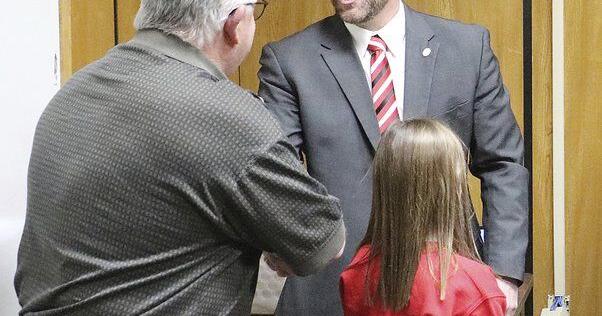 An inviting community, a place to raise his family, he place he could call home – that's what Adam McPhail wanted when he became one of the candidates hoping to be Pauls Valley's next school superintendent.
All five members of the Pauls Valley Board of Education made it official Monday night when the group voted to make McPhail the replacement for the departing Mike Martin.
A focused McPhail appeared fully ready for the new challenge as he brought his wife, Ashley, who happens to be a reading specialist for younger students, and their three children, 10-year-old Adalynn, Addyson, 8, and Anderson, 5, with him for the big night.
"My wife and I want a community where we can raise our children," McPhail said moments after the hire became official.
"Since I applied we have looked around at the schools and community and just liked what we saw. I did some research and saw the community really supports the schools.
"I just felt that this is a place where I want to work. I liked the people, the size of the community is really important if I'm going to have a close relationship with everyone."
On the other side of that McPhail does say it's going to be difficult to leave Clinton with so many close friends there and a church where they're very comfortable.
However, McPhail also admits they knew this day would come as he's spent the last four years serving as assistant superintendent in Clinton.
"We knew the whole time an opportunity like this would come along," he said.
"We want a community we can call home. I think this is the place we can call home."
McPhail is now set to step in for Mike Martin, who will continue in Pauls Valley through June 30 before then moving to his new position as school superintendent in Atoka.
"I want to continue the success this district has had with Mr. Martin," McPhail said.
"He helped pass a bond issue and build a new elementary school. I want to continue that momentum."
McPhail grew up in Crescent, where he graduated from high school in 2002. Four years later he was a graduate of Oklahoma State University.
He then spent some time in Jones, where he started with one year as a social studies teacher, six years teaching and coaching mostly football, one year as assistant elementary principal and a two years as middle school principal.
Then he worked three years as the high school principal and athletic director in Canton. He followed that with his time in Clinton.
Now that McPhail is officially hired as PV's soon-to-be superintendent, he plans to start holding regular transition days throughout the current semester.
He says the idea is to get to better know staff and teachers here in Pauls Valley and get a good overview of the district so he's ready to go on day one on his tenure starting July 1.
As for Pauls Valley's school board members, there appeared to be a whole lot of feeling good going around after this week's special meeting.
"As a board we see a great future for the community, and he seemed like a good match," Jesse Alvarado said about McPhail.
"Qualifications-wise he's outstanding. He's well connected and came highly recommended.
"I believe he's got a commitment to embrace the community and help take us to the next level."
"We had some really great candidates," said Katie Johnson. "We chose a great candidate.
"We think he and his family will be a great addition to the community."
"He'll be an awesome fit," Joe Don Looney said. "We had lots of candidates, but he was the best fit."