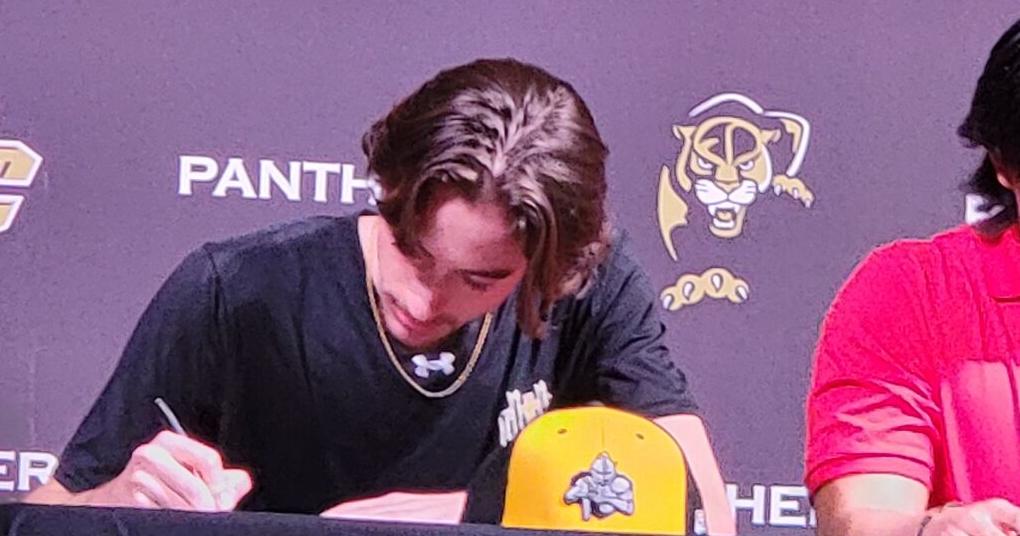 PELL CITY — You might think Ethan Lang was moving to Alaska with all the jackets, heavy boots, mittens, beanies and other winter gear he received as Christmas presents from his grandmother, Deborah Pinard.
On Thursday, he announced that his college journey wouldn't take him quite so far away. He's only going to Iowa to join Dordt University's NAIA baseball program.
"I mean, it's great. I mean, not, not very many people get to do this," Lang said. "So it's great to be one of the select few."
Pell City fans might not recognize Lang now, but they should get plenty of chances to get acquainted with the homeschool player this season.
"It's almost like he's done four years of work in the last six months," Pell City baseball coach David Collins said.
When Lang showed up at tryouts, Collins said he couldn't help but notice his 6-foot-5 frame. Since joining the team in August, Collins has watched Lang more than find his place.
The coach expects Lang to compete at third base and fight for time in the pitching rotation this season. Collins also has no issues describing Lang as one of the team's leaders.
"He's up there early every day, he stays late," Collins said. "He's really just a shining example of what you'd want a leader to be."
Collins said he's also impressed with how much time Lang spends helping his younger teammates.
"I want to build the next generation of baseball players here," Lang said. "I want to be remembered as the guy that helps the younger guys come back and know that I helped that guy. Look where he is now."
Lang said the hardest part about joining the team was overcoming the homeschool "stigma of being antisocial."
But his parents know he overcame a lot more than that.
"He really stepped out of his comfort zone trying out for the high school team here," his mother, Cathy Lang, said. "He's played baseball with other homeschool groups who are pretty competitive, but this was a whole new level for him, and I feel like he has really risen to that."
Both his parents were initially shocked when he told them he was going to the baseball facilities on Christmas day to get some extra work done, but Lang's father, Zach Lang, couldn't help but recognize this as proof that his son was listening to them.
"We've told him so long to push, go chase your dreams," Zach Lang said. "We want what is best for you, and if this is how you're going to get better, go get it."
Before his son joined the Panthers, Zach Lang warned him that he would have to work twice as hard to earn a spot amongst his new team.
It's clear Ethan Lang took those words to heart. His father is also excited to see that work helped him earn a spot to continue playing the sport he loves in college.
"Being homeschooled, we haven't had the same exposure that so many in public systems have. … So for him to catch the eye of somebody in a college at that level," Zach Lang said. "We couldn't be more proud of him."