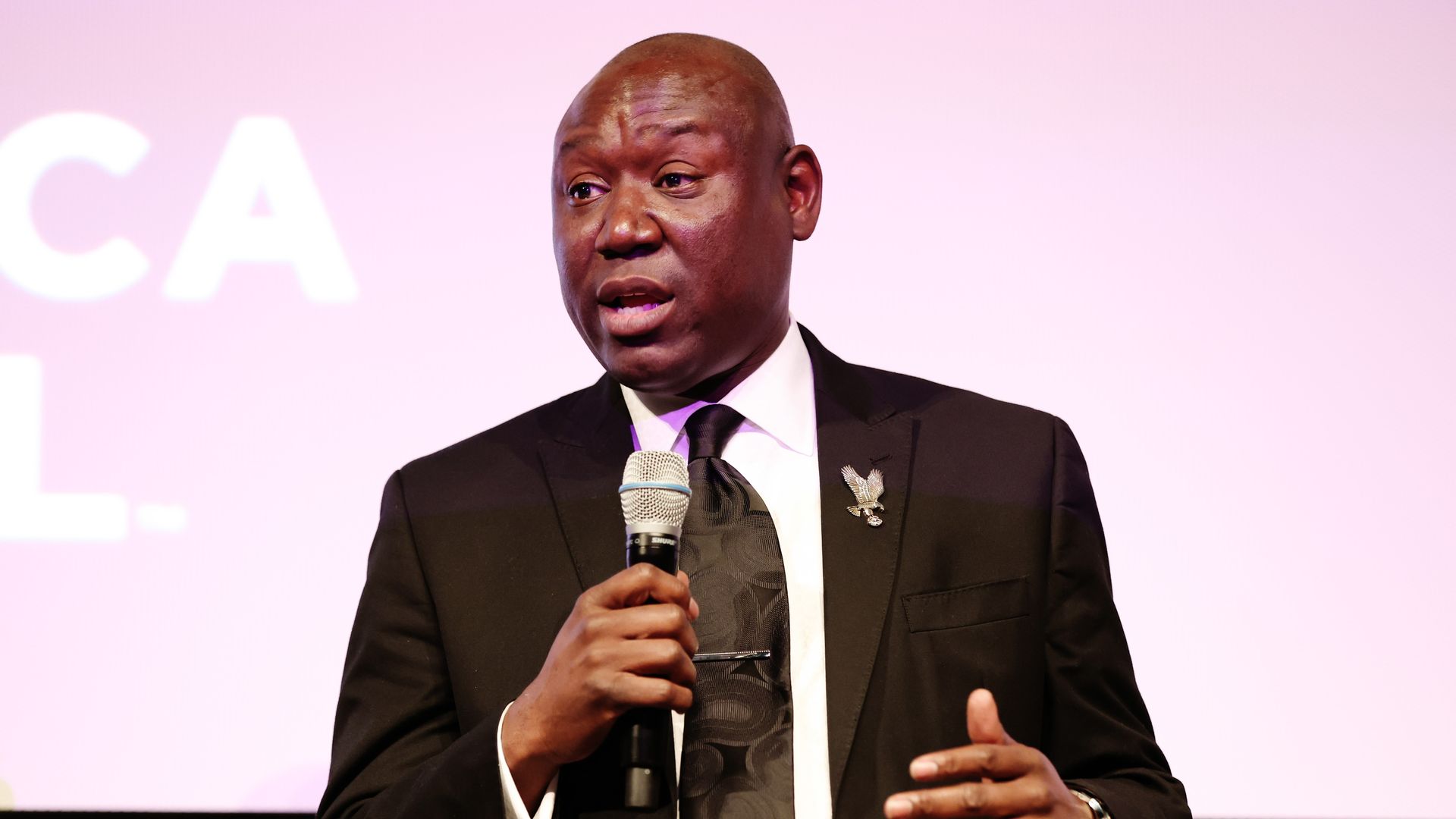 Civil rights attorney Ben Crump at a New York City event last June. Photo: Monica Schipper/Getty Images for Netflix
Civil rights attorney Ben Crump joined Florida students on Wednesday in announcing they would sue the state and its Republican governor, Ron DeSantis, if they don't reinstate the African American studies course in the Advanced Placement curriculum.
Driving the news: There's growing outrage at the Florida Education Department's decision to block the course. The department last week told the College Board, the nonprofit group overseeing the AP program, that it is "contrary to Florida law and significantly lacks educational value."
Crump, who is representing the three AP honors high school students with attorney Craig Whisenhunt, said at a press briefing Wednesday that blocking the course violated the federal and state constitutions.
What they're saying: "If the governor allows the College Board to present AP African American studies in classrooms across the state of Florida, then we will feel no need to file this historic lawsuit," Crump said.
"However, if he rejects the free flow of ideas and suppresses African American studies, then we're prepared to take this controversy all the way to the United States Supreme Court."
Context: The Florida State Board of Education unanimously approved an amendment in 2021 banning critical race theory, which links racial discrimination to the nation's foundations and legal system, in a move backed by DeSantis.
The state's education commissioner last week tied the AP course to CRT, tweeting that the department had "rejected an AP course filled with Critical Race Theory and other obvious violations of Florida law."
The big picture: Community leaders and state lawmakers have criticized the decision to get rid of the curriculum.
Some speakers at a "Stop the Black Attack" voting rights rally in the state's capital, Tallahassee, on Wednesday accused DeSantis of trying to further marginalize Florida's Black community, per the Washington Post.
State Sen. Shevrin Jones (D) said DeSantis should fix issues like Florida's "crumbling schools," but these were "being ignored because we have to deal with the promotion of Jim Crow 3.0 by people who don't know and don't care about what's happening in Black communities, but they desire to referee how you teach our history."
State Rep. Michele Rayner (D) said DeSantis is on a political "witch hunt" and "there are 2.8 million students sitting in Florida public schools right now knowing that their governor does not want them to learn about Black history," WashPost reports.
What we're watching: The Florida Department of Education said earlier this month that it would be "willing to reopen the discussion" if the College Board develops a curriculum with "lawful, historically accurate content."
What he's saying: Representatives for DeSantis did not immediately respond to Axios' request for comment, but the Florida governor said in 2021: "Critical Race Theory teaches kids to hate our country and to hate each other. It is state-sanctioned racism and has no place in Florida schools."
Go deeper: The next critical race theory fights