Florida Republicans have designated as their top priority this legislative session a bill that would expand school choice across the state, making it available to nearly all families.
Under House Bill 1—the designation shows the importance state House Speaker Paul Renner attaches to the bill—Florida parents could request a scholarship if they are state residents and have a child eligible to enroll in kindergarten through grade 12.
It eliminates previous, tougher restrictions limiting who can apply or what their family income is.
The money could be used to pay tuition and fees at private schools and for transportation to a public school different from where the student is currently enrolled. Or it could be used by home-schooling parents for various purposes, including instructional materials and curricula.
Parents could use it for standardized testing, Advanced Placement exams, and tutoring.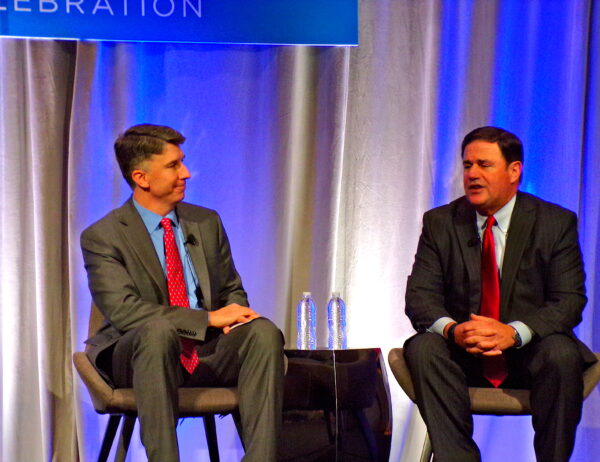 "We already have more school choice children, more people that are using choice options in this state than any other state in the country," Renner said in a press conference last week. "We're simply making sure no one's left out."
A national advocate for school choice cheered the bill.
"Florida has long been a national leader on school choice," Corey DeAngelis, senior fellow of the American Federation for Children, told The Epoch Times in an email.
"This bill would make Florida the biggest state with universal school choice, allowing all families to take their children's education dollars to the education providers of their choosing. This is the way. With [the] passage of this bill, Florida will fund students, not systems."
School Choice For All Families
"By signing this bill into law, Ron DeSantis will not only be 'America's Governor' but cement himself as the 'Parents' Governor' too. Fully unleashing education opportunity with HB 1 will make Florida the land of education freedom, as it would be the largest state with school choice for all families."
"Former Arizona Governor Doug Ducey showed Republicans the way last year when he signed into law the biggest school-choice victory in U.S. history. Now it appears red states like Florida are competing with one another by seeking to expand parental rights in education," De Angelis said.
"That's the kind of friendly competition I can get behind. All red states should follow suit and empower all families with school choice."
Laura Irwin, 34, of Alachua County, told The Epoch Times she supported the bill. She has three children, two of whom are school-age.
"We're a home-school family," she said. "We've been home-schooling since the beginning. We want control of what's being taught to our children. The best person to decide that is the parent. No one knows the child better than the parent does."
The bill's passage would help home-schoolers, she said. "The bill makes the tax money follow the child. When tax dollars follow the public education system rather than the child, a large percentage are paying taxes but not benefiting from the taxes they pay."
They will still home-school even if the bill passes, Irwin said. She knows a lot of parents with growing misgivings about Alachua County's public schools. "A lot of parents are considering their options."
"Withdrawing their child from the public school system, putting them in private school, or home-schooling, or something like that."
However, the progressive think tank Florida Policy Institute estimated the bill could cost the state's public school system nearly $4 billion a year by 2027–28.
Heavy Cost to School System
School choice has gained momentum nationally, becoming a more potent issue at the ballot box. Iowa Gov. Kim Reynolds on Jan. 24 signed the Students First Act, allowing any Iowa student to use public money to pay for private school tuition or other expenses.
Last July, former Arizona Gov. Doug Ducey signed a bill establishing universal eligibility for educational savings accounts. Parents can use the scholarship money for various expenses, including private school tuition.
Texas Sen. Ted Cruz told the America First Policy Summit in July that he considered school choice the most important domestic policy issue.
Cruz said it's the sole measure he uses when considering whether to back a Texas Republican in the party primary, a risky political move for a politician. He won't support any Republican who doesn't support school choice, he said.

According to polling estimates, 70 percent of Americans support school choice, with an even higher number of black and Hispanic parents included in that average. Cruz said that their view on the issue stands consistently at 70 to 80 percent support.
Florida currently uses five kinds of scholarships to extend some types of school choices to qualifying families.
Four are supported by tax dollars and one by donors who get tax credits for their donations.
House Bill 1 would remove income requirements for the two largest programs. The bill's current language requires only that priority be given to families whose income is at or under 185 percent of the federal poverty line.
Funding to Follow Child
A long list of conservatives and conservative organizations signed a letter urging Florida to create universal education savings accounts for students with no income eligibility requirements and allow the maximum funding legally allowable to "follow the child."
Signers include former U.S. Secretary of Education Betsy DeVos, U.S. Rep. Byron Donalds (R-Fla.), several scholars from the Heritage Foundation and American Enterprise Institute, and groups including Parents Defending Education, Moms for Liberty, Independent Women's Voice, the James Madison Institute and the American Federation for Children.
"Florida has been a pioneer in school choice for two decades," the letter states. "As of December 2022, nearly half of Florida students have chosen an educational option outside of their zoned traditional public school.
"Governor DeSantis rightly stated that 'parental involvement is important to a child's success both in school and in life.' We applaud Governor DeSantis and Florida lawmakers who recognize that parents are the ultimate form of accountability and who have worked tirelessly to defend the mantle of parental agency."
The letter continued, "While Florida is ahead of most other states, lawmakers have an opportunity to further expand educational freedom and parental choice. The Heritage Foundation ranks Florida No. 3 on school choice, noting that it could be improved by expanding eligibility for private education choice policies."
Democrats oppose the bill.
Dr. Jean Siebenaler, legislative chair for the Democratic Women's Clubs of Florida, posted a long list of objections that party activists can use as talking points in opposing House Bill 1 by contacting legislators, writing letters to the editor, or speaking in public.
'Even Millionaires Would be Eligible'
The bill wipes out income requirements, while the existing voucher scholarship program targets children from low-income families and children with disabilities, Siebenaler said.
"Even millionaires would be eligible to raid the funds for their expensive private schools or home-schooling services at the expense of the state education budget," she said in a post on the Charlotte County Democrats' web page.
"Taxpayers would be funding more voucher schools that are exempt from state rules regarding teacher qualifications, academic standards, and testing."
Schools accepting vouchers can charge tuition exceeding the vouchers, forcing families to make up the difference, she said.
"Public schools serve all students, but voucher schools are allowed to discriminate against gay students, and others with disabilities, different religions, and disadvantaged backgrounds."
Public schools, where 90 percent of Florida students are enrolled, suffer from a teacher deficit and large class sizes, she said.
"This could be fixed with more money."