Florida rejected an Advanced Placement (AP) African American Studies course because it contained elements of critical race theory and "Black Queer Studies," according to a document shared with Fox News Digital detailing the concerns identified by the Florida Department of Education (DOE).
Florida Commissioner of Education Manny Diaz, Jr. also tweeted a graphic that detailed six particular lessons outlined in the syllabus that did not comply with Florida law or the state's education standards.
"Despite the lies from the Biden White House, Florida rejected an AP course filled with Critical Race Theory and other obvious violations of Florida law," Diaz tweeted. "We proudly require the teaching of African American history. We do not accept woke indoctrination masquerading as education."
ARIZONA UNIVERSITIES DEMAND RIGID ALLEGIANCE TO 'DIVERSITY,' SUPPRESS HIRING OF CONSERVATIVES: STUDY
"As we've said all along, if College Board decides to revise its course to comply with Florida law, we will come back to the table," he added.
The Florida DOE rejected the AP course because they believe it lacked educational value and historical accuracy, according to a letter sent to the College Board. The College Board is a nonprofit organization that seeks to expand access to higher education. The course contains tenets of critical race theory (CRT) and elements of queer theory, according to a copy of the syllabus obtained and reviewed by Fox News Digital.
CALIFORNIA UNIVERSITY OFFICE WILL NO LONGER USE THE WORD 'FIELD' OVER RACIST 'CONNOTATIONS'
"As presented, the content of this course is inexplicably contrary to Florida law and significantly lacks educational value," the DOE rejection letter said. "In the future, should College Board be willing to come back to the table with lawful, historically accurate content, (the education department) will always be willing to reopen the discussion."
Bryan Griffin, press secretary to Florida Governor Ron DeSantis, said the state's classrooms "will be a place for education, not indoctrination."
"As submitted, the course is a vehicle for a political agenda and leaves large, ambiguous gaps that can be filled with additional ideological material, which we will not allow," Griffin said.
One of the lessons titled "Intersectionality and Activism," "examines intersectionality as an analytical framework and its connection to Chicana and Asian American feminist thought."
"Intersectionality is foundational to CRT, and ranks people based on their race, wealth, gender and sexual orientation," the Florida DOE stated.
Suggested readings include "Mapping the Margins: Intersectionality, Identity Politics, and Violence Against Women of Color" by Kimberlé Crenshaw, who developed the framework for critical race theory and coined the term "intersectionality," according to the Association of American Law Schools. Other reading "may" include text from the writings of "self-avowed Communist and Marxist" Angela Davis.
Another section, titled "Black Queer Studies … explores the concept of the queer of color critique, grounded in Black feminism and intersectionality, as a Black studies lens that shifts sexuality studies toward racial analysis."
Suggested readings include texts by Roderick Ferguson who believes "We have to encourage and develop practices whereby queerness isn't a surrender to the status quos of race, class, gender and sexuality," the Florida DOE wrote. "It means building forms of queerness that reject the given realities of the government and the market."
One lesson called the "Movements for Black Lives," would study the "origins, mission, and global influence of the Black Lives Matter movement and the Movement for Black Lives." The Movement for Black Lives is an organization that aims to eliminate prisons and jails, ending pretrial detention and conclude "the war on Black trans, queer, gender non-conforming, and intersex people," the Florida DOE explained.
"We believe and understand that Black people will never achieve liberation under the current global racialized capitalist system," the Movement for Black Lives states on its website.
Students could be responsible for examining the works of scholars like Leslie Kay Jones who wrote, that "Every day, black people produce an unquantifiable amount of content for the same social media corporations that reproduce the white supremacist superstructures that oppress us," the Florida DOE highlighted.
The section "Black Feminist Literary Thought," includes readings by intersectionality author, Bell Hooks, who stated that he started using the phrase "white supremacist capitalist patriarchy" because he "wanted to have some language that would actually remind us continually of the interlocking systems of domination that define our reality."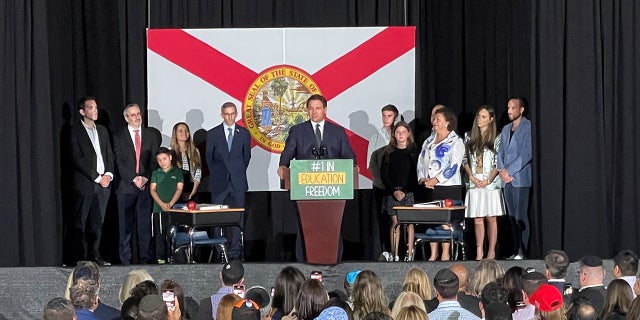 The Florida DOE said a lesson about "The Reparations Movement," was not up to their standards because "All points and resources in this study advocate for reparations" which provides "no critical perspective or balancing opinion in this lesson."
The last topic highlighted by was a section titled "Black Study and Black Struggle in the 21st Century" which included readings by Robin D.G. Kelley who "argues that activism, rather than the university system, is the catalyst for social transformation."
"Kelley's first book was a study of Black communists in Alabama," the Florida DOE said. "Kelley warns that simply establishing safe spaces and renaming campus buildings does nothing to overthrow capitalism."
The course also "explores concepts such as postracialism, colorblindness, racecraft, or inequality through scholarly text" by authors like Eduardo Bonilla Silva whose book "Racism Without Racists," "documents how, beneath our contemporary conversation about race, there lies a full-blown arsenal of arguments, phrases, and stories that whites use to account for—and ultimately justify—racial inequalities," according to its description.
GOLDEN GLOBE HOST CANDIDLY ADDRESSES CONTROVERSY: I'M HERE 'CAUSE I'M BLACK'
The College Board said the course is in development and being piloted at 60 high schools across the U.S., before it is expanded nationwide by 2025, according to its website. The course has been in development for more than a decade with the help of "college faculty and teachers across the country" whose "expertise and experience" will provide the basis for "an evidence-based introduction to African American studies."
"Like all new AP courses, AP African American Studies is undergoing a rigorous, multi-year pilot phase, collecting feedback from teachers, students, scholars and policymakers," the College Board said in a statement to Fox News Digital. "The process of piloting and revising course frameworks is a standard part of any new AP course, and frameworks often change significantly as a result."
The College Board said it plans to publicly release the updated course framework when it is completed, "well before" it is widely available in U.S. high schools.
CLICK HERE TO GET THE FOX NEWS APP