As more Americans have died in mass shootings in recent days, the parents and families of children killed in a school shooting in Uvalde eight months ago pleaded Tuesday for Texas legislators to pass "common-sense gun laws" so children "can stop living in the United States of the NRA."
The parents gathered at the Texas Capitol for a news conference in which state Sen. Roland Gutierrez, whose district includes Uvalde, announced bills he has filed and other plans for this year's legislative session that began this month and ends May 29.
They were joined by the parent of a student who died in the 2018 shooting at Santa Fe, Texas, high school.
"Take clear notice of these common-sense gun laws our children and future need to live in the United States of America and stop living in the United States of the NRA," Velma Lisa Duran, of San Antonio, said referring to the National Rifle Association, the most powerful gun lobbying group in the country.
Duran's sister, Irma Garcia, was one of the two teachers and 19 killed in the May 4, 2022 shooting in Uvalde. Garcia's husband, Joe Garcia, died two days later of a heart attack.
The Uvalde massacre was the deadliest school shooting in Texas history and one of the deadliest in the country. The law enforcement response has led to investigations and outrage because officers waited more than an hour to enter the building to stop the shooter.
Their calls for action from the family and lawmakers come after weekend deadly shootings in California left 18 people dead, a deadly shooting in Iowa left two people dead, and a mass shooting in Baton Rouge injured 12 since Saturday night. As of Tuesday, 39 mass shootings had occurred so far this year, NBC News reported.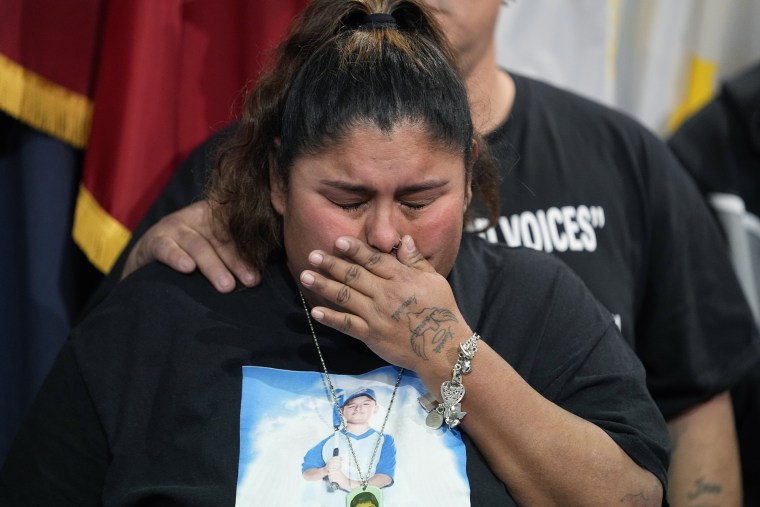 The sorrow of the losses for the Uvalde families were visible in tears, sniffles and anger, as some of the family members made statements at the conference in Austin, which was livestreamed. Parents held photos of their children and wore T-shirts and buttons with their names and images during the news conference.
Sen. Roland Gutierrez, a Texas Democrat whose district includes Uvalde, filed two bills and two resolutions. One resolution calls on Congress to repeal protections of gun manufacturers from lawsuits and another would allow families to sue the state or its ancillary agencies for failures to stop the shooter.
In one of the bills, Gutierrez proposes a violence and compensation fund for families of victims and victims of school violence that would be funded by taxes of five cents per round of ammunition and $50 per firearm.
The fund would pay $1 million per person killed, $250,000 per person seriously injured, $100,000 for those with mental health injuries and $50,000 for those with a less serious physical injury. Gutierrez said the federal excise tax on weapons bought in Texas every year is about $97 million. "I think we can have a piece of that action," he said.
The second bill would end the qualified immunity that protects police officers in the performance of their duties and has complicated the Uvalde parents' and families' attempts to hold officers accountable in the deaths of their loved ones.
Gutierrez said he is filing the legislation individually, rather than as part of a package addressing a wide range of gun- and violence-related issues, to give them their due. The strategy could force votes on the Uvalde-related legislation specifically.
Texas leadership and the Republican-controlled Legislature have been criticized for failing to toughen legislation after other mass shootings in the state, including the Santa Fe school shooting and the 2019 shooting massacre in a Walmart in El Paso, that left 23 people dead and 23 wounded.
Gutierrez plans to file other bills and parents plan to make more trips to the Capitol to lobby for their passage.
Some parents have called for an increase in the minimum age for purchasing assault-style weapons, which is 18 in Texas. Gov. Greg Abbott has said doing so would be unconstitutional, based on court rulings. A few states have set the age limit at 21 to purchase long guns.
"This has to be the session where we do something. It cannot be the session where we have roundtables. It cannot be the session where we have discussions. It has to be the session where we do something on gun safety," Gutierrez said.