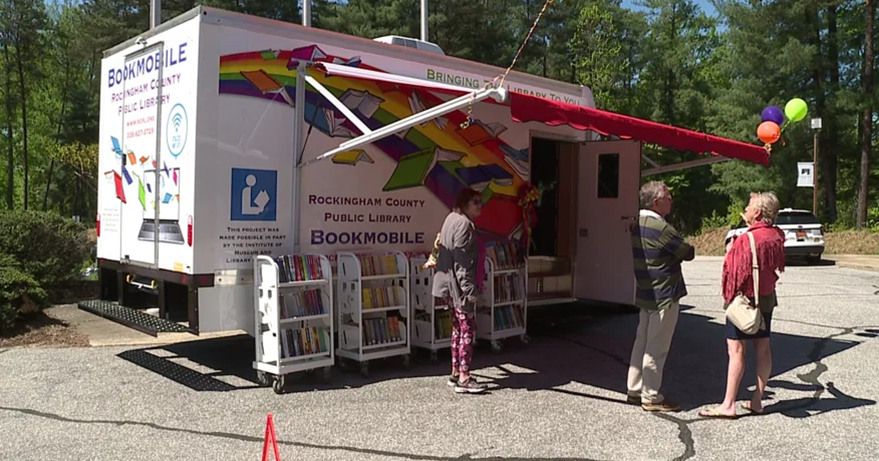 REIDSVILLE — Kat Robinson has always enjoyed books, and as a high school student, she even considered pursuing a career as a librarian, but as life took various twists and turns, she found herself putting that dream on the back burner, until three years ago.
A stay-at-home mom for years, as her children got older, she accepted a volunteer position at the Reidsville Library, and the rest is history. Robinson, 50, moved on to become a part-time bookmobile driver and librarian and worked her way up to become coordinator for the book mobile/outreach, overseeing the outreach department, and its other two employees.
"I absolutely love being able to bring the library to areas of the county that don't have easy access to libraries," she said. "Our goal is to make the library accessible to all people."
Like a mini-branch of the library, the Rockingham County bookmobile is a specially-fitted van that delivers books and services throughout the county. The bookmobile is stocked with books for the very young to adults, including the newest large print books for adults. Patrons may also place a hold on books online and pick them up at one of the bookmobile's stops. The bookmobile includes two desks, laptops, ipads and copying services and provides 500+ hours of Internet services per year.
"I had a young man recently who walked 20 minutes to the bookmobile to apply for a job," Robinson said. "He had no car or access to Internet service."
A copy of the bookmobile's schedule is located at rcpl.org.
While the Bethany/3 Sisters Café stop is the bookmobile's most popular one, Robinson said she and her staff have been able to tap into the home-school population, and they also visit some of the schools in the county that do not have a library or librarian.
"We have all ages come out," she said.
Rockingham County Public Libraries has operated a bookmobile since 1937, at one time having three, and they were one of the first counties in North Carolina to have a bookmobile for the African American community.
The library participates in Reading is Fundamental in the summer, with last year the bookmobile giving away almost 5,000 books to school-age children.
"The book mobile is very busy during the summer," Robinson said.
Upgrades planned for the bookmobile this year include an RV chair lift so that older patrons do not have to use the van's steps.
Robinson said her job is very physical, requiring the ability to stock the bookmobile and transport books.
"We also do branch runs from library to library, and driving is very physical in traffic and weather," she said. "This is the most exhausting but also most rewarding job."
The outreach department also takes books and materials to nursing homes, as well as homebound and individual patrons.
After high school, Robinson worked in construction for 10 years before marrying and moving to California. Robinson, her husband, Joel, and two sons, William and Ronan, moved from California to Reidsville nine years ago, with her children attending the North Carolina Virtual Academy.
"Being able to work for the library is a dream come true," she said. "I didn't realize how much I enjoy helping others enjoy books."
Robinson is finishing her bachelor's degree in business administration at UNCG, and her goal is to obtain a master's degree in library science.
"It's been a long road to a dream job," she said. "I can't tell you how much I love what I do now."