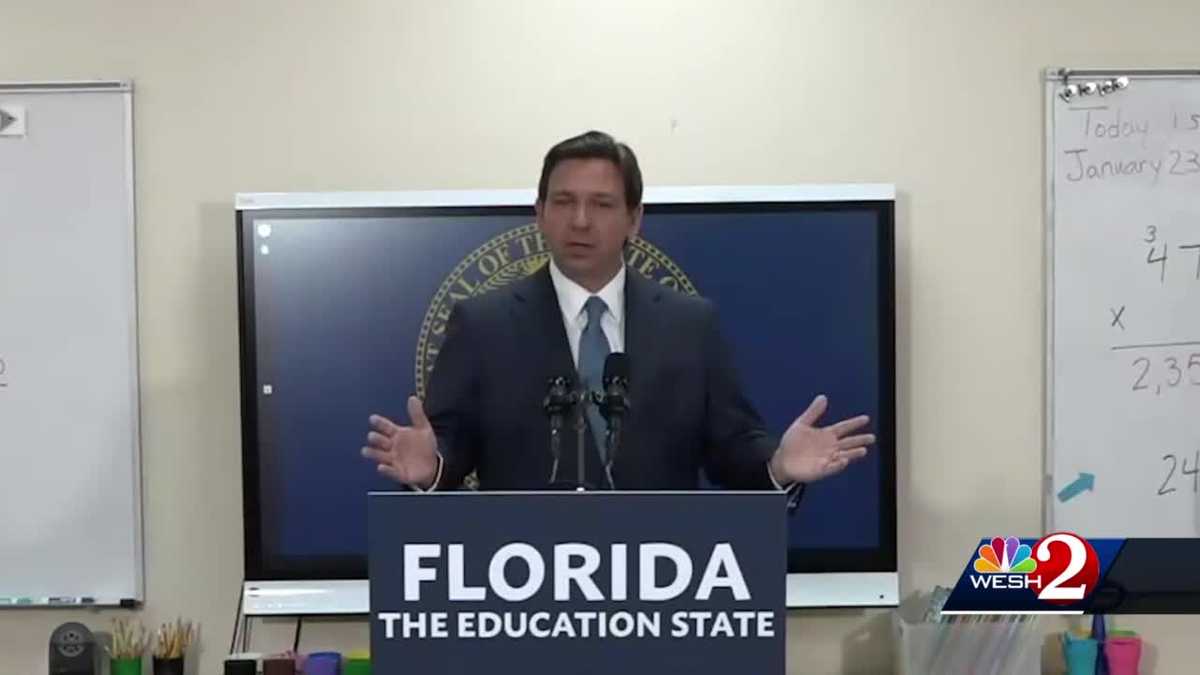 Florida Gov. Ron DeSantis says he believes a high school course on African American history was clearly designed for "political purposes."DeSantis talked about the Advanced Placement (AP) course on Monday and says more details about the course curriculum are coming to light. "We have guidelines and standards in Florida. We want education, not indoctrination," DeSantis said. DeSantis stood by the state Department of Education's decision to deny the College Board the opportunity to run a pilot AP course on African American Studies in one or more high schools.The DOE found "concerns" in six areas of the curriculum, including the teaching of critical race theory (CRT) and the teaching of theories about racism's effect on current government policy, the justice system and social interaction. It rejected key writings by Dr. Angela Davis, an activist and former Communist Party member. A portion of the course called "Movements for Black Lives" was dismissed for suggesting some corporations promote white supremacy. And lastly, the topic of Black Queer Studies."Who would say that an important part of Black history is queer theory? That is somebody pushing an agenda on our kids," DeSantis said. "And so when you see they have stuff about intersectionality and abolishing our prisons. That's a political agenda."Democrats and other critics of the state's move to reject this AP course believe the governor is not being honest about his true motives. "I am insulted, personally," Sen. Geraldine Thompson, (D)-Orlando, said. "When the (state) Department of Education says African American history has no educational value."Thompson is a former educator who believes the real motive behind the governor's opposition to the AP course which would be offered as a college credit elective, and not a requirement, is to suppress the contributions of people of color."It seeks to whitewash history and to erase the contributions of people like me, people who helped to build this country," Thompson said. The College Board intends to continue developing the African American Studies program to offer it to all U.S. high schools by fall 2024. The Department of Education says it would be willing to allow the AP course to be taught in Florida if the College Board agreed to remove and rework some of the content.Top headlines:Orlando leaders advance plan to add restrictions for bars, nightclubs downtownBody cam video shows police pleading with wife accused of killing husband in Daytona Beach hospitalCentral Florida educators react to Gov. DeSantis' teachers bill of rights
ORLANDO, Fla. —
Florida Gov. Ron DeSantis says he believes a high school course on African American history was clearly designed for "political purposes."
DeSantis talked about the Advanced Placement (AP) course on Monday and says more details about the course curriculum are coming to light.
"We have guidelines and standards in Florida. We want education, not indoctrination," DeSantis said.
DeSantis stood by the state Department of Education's decision to deny the College Board the opportunity to run a pilot AP course on African American Studies in one or more high schools.
The DOE found "concerns" in six areas of the curriculum, including the teaching of critical race theory (CRT) and the teaching of theories about racism's effect on current government policy, the justice system and social interaction. It rejected key writings by Dr. Angela Davis, an activist and former Communist Party member. A portion of the course called "Movements for Black Lives" was dismissed for suggesting some corporations promote white supremacy. And lastly, the topic of Black Queer Studies.
"Who would say that an important part of Black history is queer theory? That is somebody pushing an agenda on our kids," DeSantis said. "And so when you see they have stuff about intersectionality and abolishing our prisons. That's a political agenda."
Democrats and other critics of the state's move to reject this AP course believe the governor is not being honest about his true motives.
"I am insulted, personally," Sen. Geraldine Thompson, (D)-Orlando, said. "When the (state) Department of Education says African American history has no educational value."
Thompson is a former educator who believes the real motive behind the governor's opposition to the AP course which would be offered as a college credit elective, and not a requirement, is to suppress the contributions of people of color.
"It seeks to whitewash history and to erase the contributions of people like me, people who helped to build this country," Thompson said.
The College Board intends to continue developing the African American Studies program to offer it to all U.S. high schools by fall 2024.
The Department of Education says it would be willing to allow the AP course to be taught in Florida if the College Board agreed to remove and rework some of the content.
Top headlines: